Gerry Beaudoin Trio - Gerry Beaudoin Guitar - Gerard Beaudoin Vibraphone - Bob Nieske Acoustic Bass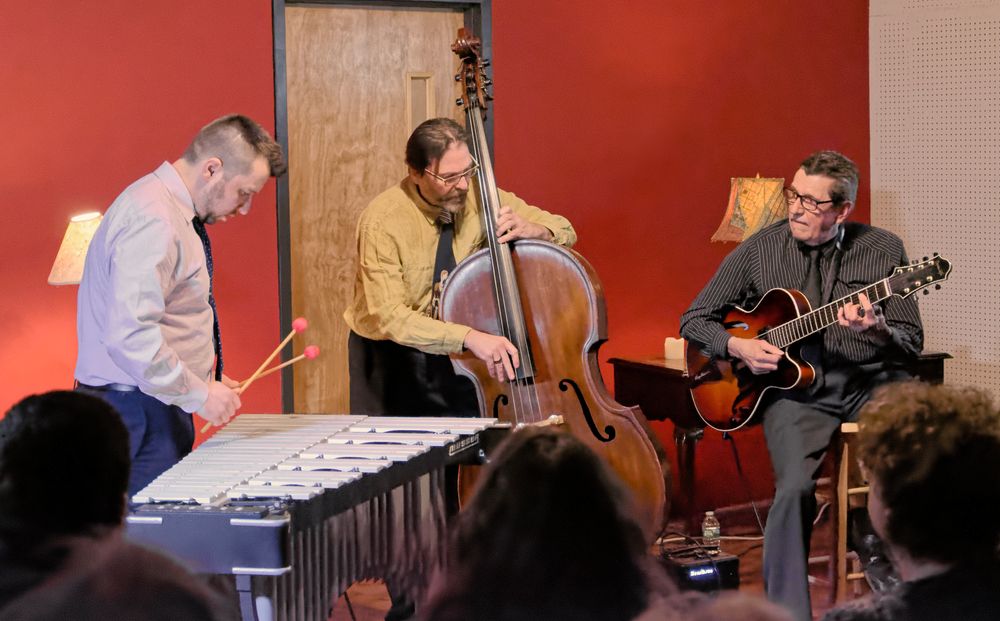 0:00/5:59

0:00/8:02

0:00/5:15

0:00/6:12
GERRY BEAUDOIN TRIO 
The Gerry Beaudoin Trio is the musical vehicle for award winning jazz and blues guitarist Gerry Beaudoin. Called "New England's premier jazz guitarist" by Just Jazz Guitar Magazine and "A swing guitar master" by the Boston Globe, Gerry has strong ties to the Boston area and New England. A lifelong resident of Waltham, Massachusetts, Gerry is a graduate of Berklee College of Music. His performance on the DVD "Live at the Stoneham Theater" was singled out by jazz historian Scott Yanow in his book The Great Guitarists as one of the "finest examples of jazz guitar on film." For over thirty years the Gerry Beaudoin Trio has been a fixture on the New England jazz scene as well as the national jazz stage.  He is the recipient of a National Association Of Independent Record Distributors Award for his recording In A Sentimental Mood and two Cadence Magazine Editors Choice Awards.  
Musical collaborations with major artists in performance and recordings include mandolin titan, David Grisman,  jazz guitar legend Bucky Pizzarelli, jazz saxophonist and blues shouter Eddie Cleanhead Vinson, legendary jazz pianist Jay McShann, Grammy nominated vocalist Karrin Allyson, Grammy winning saxophonist, pianist and arranger Fred Lipsius from the seminal jazz/rock group Blood, Sweat and Tears, world class saxophonist  Harry Allen and saxophonist Rich Lataille from Roomful of Blues, guitarists Howard Alden, Ronnie Earl, Joe Louis Walker, Duke Robillard, harmonica player from the Eric Clapton and Muddy Waters band, Jerry Portnoy and legendary guitarist Jay Geils from Bostons own J. Geils Band. The Gerry Beaudoin Trio recordings Just Among Friends featuring David Grisman and Bucky Pizzarelli and The Return featuring the Gerry Beaudoin Trio with saxophonist Harry Allen both were placed on the Grammy Awards ballot in multiple categories.  The trio's collaboration with guitarists Jay Geils and Duke Robillard as the New Guitar Summit produced three CDs on Canada's Stony Plain label, of which one, Shivers, was also placed on the Grammy awards ballot.                                                                                                                                                                                    
Constantly evolving in instrumentation and personnel, the current Gerry Beaudoin Trio consists of Gerry his son Gerard Beaudoin on vibes and longtime friend and musical collaborator Bob Nieske on acoustic bass. Jazz festival impresario Bart Weisman said of the Gerry Beaudoin Trio, "The father and son team weave sinuous lines and complex musical phrases truly in the tradition of jazz, supported by the rock solid bass of Bob Nieske . "  A young vibraphone phenomenon, Gerard Beaudoin III, is a self taught jazz musician. Studying all percussion instruments in the Waltham MA school music programs he was chosen for the prestigious Northeastern District Jazz Band in MA in his junior and senior years. It was the first time in years a vibraphonist had been invited to join the band and the first time in twenty years a student from Waltham High School had been invited to participate in this concert.  At seventeen years old he was asked by Jay Geils of the legendary J. Geils Band to perform on his second solo jazz CD, "Toe Tappin Jazz".   Performances with the Waltham Philharmonic Orchestra and jazz legends Bucky Pizzarelli, clarinetist Dick Johnson,  leader of the Artie Shaw Orchestra,  and Grammy winning saxophonist Fred Lipsius from the seminal jazz rock group Blood, Sweat and Tears soon followed. A prolific songwriter Gerard  co-wrote the new jazz standard " I Often Thought You'd Never Leave Me" which was placed on the Grammy Awards Ballot in 2011. In 2016 Gerard was the featured performer in concert with the Cape Cod Conservatory Big Band performing the music of legendary jazz vibraphonist Terry Gibbs. He has performed at major festivals and jazz clubs with saxophonist Harry Allen and guitarist extraordinaire Howard Alden. His traditional two mallet approach, a unique approach to comping chords and a swinging .fluid style has him as a brand new voice to be reckoned with on his instrument. 
Maintaining a very busy schedule on the road and at major festivals and jazz clubs throughout their career, The Gerry Beaudoin Trio also performs many concert and club dates each year just in New England. Gerry was quoted as saying: "I love New England and since most of the players in my musical orbit also live in New England or New York it is easy for me to continue my collaborations with my favorite musicians in this area a majority of the year."  Plans for the "Trio in the 2018-2019  concert season include visiting the west coast and western Canada again.  Their new CD " …. And Then There Were Four" was released March 11th 2019 and features saxophonist Harry Allen. 
A charter member of the Gerry Beaudoin Trio, bassist Bob Nieske is a successful jazz educator, performer, arranger and composer.   He is "Professor In The Practice Of Music " and Director of the Jazz Ensemble at Brandies University, as well as on the faculty at the New England Conservatory and a guest Director of the New England Conservatory Big Band.   Bob holds a Bachelors and Masters of Music degree with Honors from New England Conservatory.  He was a member of legendary saxophonist and clarinetist Jimmy Guiffre's bands for twelve years and contributed compositions to his critically acclaimed Soul Note recordings.   Bob and Gerry are celebrating over thirty years of musical collaboration in this latest incarnation of the Gerry Beaudoin Trio.  Gerry simply states, "I don't think any musician has supported me more or had an effect on my career and my music than Bob.  Any direction I took, no matter how different from what we had done before, he was always there offering personal, professional and musical support."  
Bob has recorded or performed with guitarists Charlie Byrd, Duke Robillard and Larry Coryall, jazz vocalist Dakota Staton, The Either/Orchestra, pianist and composer George Russell And The Living Time Orchestra and legendary jazz violinist Stephane Grappelli.  As a composer and arranger Bob's own projects include a suite for jazz trio and the Lydian String Quartet documented on his critically acclaimed CD Simplicity. 
Gerry has appeared on over fifty recordings and DVD's .